Sven is played by ROTG4ever.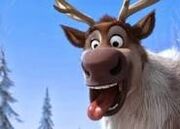 About him
Edit
He is Kristoff's pet reindeer. He likes to drink Vodka and he likes to be drunk. He is very loyal, funny, sweet, helpful, clumbsy, etc. The top of his head is a copper-brown colour and he has brown eyes. 
Where did we saw him?
Edit
We saw him in the movie Frozen.
Kristoff- his master.
Elsa and Anna- the two sisters.
Olaf- the small snowman.
Hans- the enemy.